Dr. Dragos Iorgulescu
MD (Bucharest), MS (Melbourne), FRACS
General Surgeon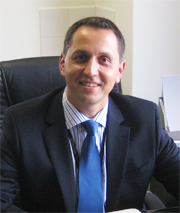 Dr. Dragos Iorgulescu
Special interests:
Gallbladder, Liver, Pancreas, Biliary and Upper Gastrointestinal Surgery
Laparoscopy
ERCP and interventional endoscopy
Dr. Iorgulescu graduated from the University of Bucharest top of his year in 1993 and the same year moved to Australia. He completed his general surgical training at St. Vincent's Hospital in Melbourne and obtained his Fellowship of the Royal Australasian College of Surgeons in 2004. He worked as Consultant General Surgeon at Royal Adelaide Hospital, Goulburn Valley Health, Shepparton, Victoria, and Shoalhaven District Memorial Hospital, Nowra, NSW at the same time running a Private General Surgical Practice.
He undertook 5 years of subspecialty training in Hepato-Biliary, Pancreas, Liver Transplantation and Upper Gastrointestinal Surgery at Royal Prince Alfred Hospital Sydney, Nepean Hospital Sydney, Austin Hospital Melbourne, Royal Adelaide Hospital and Queen Elisabeth Hospital Adelaide.
Dr. Iorgulescu has a higher degree of Mastery of Surgery by research in cancer molecular biology from the University of Melbourne in 2002. In his thesis he described a new method of detecting micro-metastases in patients with solid tumours, which would help in early detection of spread and targeted cancer treatment.
Dr. Iorgulescu's main interest is the surgery of the digestive system. He can provide a full laparoscopic and endoscopic service for gallstones, jaundice, liver and pancreas tumours, pancreatitis, gastric and oesophageal cancer and reflux disease. He has national GESA accreditation in ERCP, Upper and Lower Endoscopy, including interventional, like stents (oesophageal, duodenal, biliary), dilatations, feeding tubes and removal of polyps. He manages cancers and benign conditions of the oesophagus, stomach, small bowel, colon and rectum and, were necessary, has strong connections for appropriate referral to Sydney, Wollongong, Melbourne or Adelaide. He attended several courses in laparoscopic and minimally invasive surgery in Strasbourg (France), Taipei (Taiwan), Brisbane and Adelaide. His laparoscopic skills include inguinal and incisional hernia, liver resections, distal pancreatectomy, splenectomy, adrenalectomy, colectomies, bile duct exploration, fundoplication and hiatal hernia repairs.
Dr. Iorgulescu is also trained as a general surgeon, therefore also performs breast surgery, vascular access procedures for chemotherapy, melanoma surgery, local skin flaps for skin cancers (BCC/SCC), minor urological procedures (vasectomy,circumcision in adults and children more than 12 years or age, hydrocele, epidydimal cysts, orchidectomy etc), carpal tunnel, ingrown toenails and all other common general surgical operations.
Dr Iorgulescu operates at: Shoalhaven District Memorial Hospital, Nowra Private Hospital, Shelhoarbour Private, Hospital, Wollongong Private and Public Hospitals, Chris O'Brien Lifehouse Sydney and Mater Hospital Sydney.
Dr Iorgulescu consults at Private Rooms (70 Bridge Road, Nowra NSW 2541).